Archive for the 'mindfulness' Category
Two Jews, two Protestants, and two Catholics walk into a hospital.
It sounds like a joke, but it's actually the way I spent the summer of 2005. Like many rabbinical students, I participated in an intensive unit of Clinical Pastoral Education (CPE), learning how to be a chaplain. My compatriots in this endeavour did indeed constitute the punch line of a joke – two protestant ministers, two students in priesthood, and a fellow student rabbi. Together the 6 of us explored what it is to care for and serve others in times of need.
As part of that process, there was a lot of talk about purpose. I remember that my Christian colleagues often used the language of being "called." Called to ministry; called to serve others; called by God. And while I understood the power of that language for them, I rejected it internally. I just don't think about God that way – I don't believe that God calls me, or chooses things for me, or that the work I do is part of some larger plan. That always felt like somebody else's way of seeing the world, and maybe even some other religion's way of seeing the world.
But it turns out that the language of being called by God is deeply Jewish. This past week we read in the Torah about Abraham:
God said to Abram, "Go forth from your native land and from your father's house to the land that I will show you. I will make of you a great nation, and I will bless you; I will make your name great, And you shall be a blessing." (Genesis 12:1-2)
This is the beginning of the Jewish journey, and it begins with a call from God: Abraham is called to leave the life he knows and to begin a new endeavor – because it is what he is meant to do.
And that got me thinking about things we are meant to do. A few years ago, I read a book that affected me deeply – The Middle Passage: From Misery to Meaning in Midlife by James Hollis. Hollis is a Jungian psychologist, and he argues that what we affectionately call the "midlife crisis" (you know, when you quit your job, buy a flashy new car, or take a year off to backpack in Asia because your life is depressing you) isn't a crisis at all – it is a passage from one stage of adulthood to another. In the "first adulthood," we busy ourselves with building and proving – building careers and families, proving our worth to the world and to ourselves. But in the second half of adulthood – for those who make it there – we are moved to live by our own values, to live the lives that are in concert with our true selves. Part of that, he writes, can be the shift from holding a "job" to seeking a "vocation."
A job is what we hold to earn money to meet economic demands. A vocation (from Latin vocatus, calling) is what we are called to do with our life's energy…. We do not really choose a vocation, rather it chooses us. (Hollis, The Middle Passage, page 72)
We all have things that we do that light us up, that engage us so fully that it is as though we are meant to be doing them. Often, time seems to move more quickly – think of the saying "Time flies when you're having fun." Mihali Csikszentmihalyi, another respected psychologist, calls this phenomenon "Flow," and argues that we are happier and more productive  when we do the things that enter us into Flow. We are also more likely to be successful at what we do, because we love what we are doing. That's the lesson of Abraham. What did he do with the first 75 years of his life? We don't know – it doesn't matter. We're more concerned with his incredible success and productivity once he found his life's calling.
So maybe I should stop gritting my teeth when my minister friends talk about God calling them to their work. Because, in the end, I really do believe in this concept. I know that when I am writing or teaching the world feels different to me than at any other moment. Time moves faster; the world seems brighter; I feel happier and more alive. And it's different for everyone – one person might enter into Flow while crunching numbers, while another might be called by the work of visiting the sick. Some of us are lucky enough to find our calling in the work that we are already doing; others must look outside their job to hobbies or volunteer work, or even to career changes. (That explains why my mother moved 20 years ago from nursing to selling chocolate – thank you Mom!)
Wherever we find it, it is worth our while to go looking. To strain to hear the calling – from God, from the universe, from our own inner being – that tells us what our life's work is. Having a job may be the way to sustain your body, but finding your calling is the way to sustain your soul.
This morning, when I first opened my eyes, I looked at the time and said "Aw, sh*t…."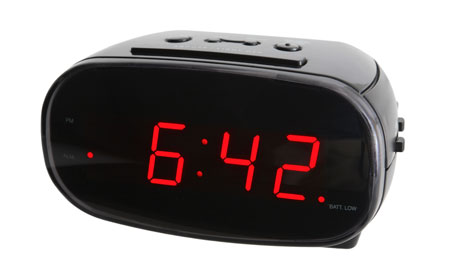 Those were the actual first words I uttered today.
Granted, it had been a particularly rough night. I had gone to bed late, and had been up once with the dog, once with a kid, and once with a disturbing dream. So I was tired, and I really didn't want to be awake. Hence, "Aw, sh*t…."
And yet, that's not necessarily so different from the way that many of my mornings start: with anxiety, or unease or worry about something I'm not looking forward to. I'm sure I'm not the only one: How many of us start almost every day feeling stressed and tired? We can't possibly be setting ourselves up for success by starting the day with negative emotions. The first event of the day sets the tone for the rest of the day. And when the first event of the day is "Aw, sh*t," we're already starting from a deficit.
That's why, starting tomorrow, I'm going to choose a different way to start my days.
When the Dalai Lama was asked how a person can cultivate happiness, he answered that it's about how you start your day:
Every day, think as you wake up, "Today I am fortunate to be alive. I have a precious human life, I am not going to waste it."
When I first read this, I found it really moving, both because it's so simple yet profound, and also because Judaism teaches something very similar. It is traditional to start your day with the following prayer:
I am grateful to You, Eternal Sovereign, for returning my soul to me. Great is your faithfulness.
Modeh ani l'fanecha, melech chai v'kayam,  shehechezarta bi nishmati b'chemla. Rabbah emunatecha.
There is a Jewish tradition that says that every night while you're sleeping, God takes your soul for safekeeping. Then, when you wake up in the morning, God returns it to your body. Hence you wake up uttering these words of thanks for the return of your soul. I don't literally believe in that story (God knows I needed my soul to deal with the dog, the kid, and the dream last night), but I love the idea of starting each day feeling grateful – for another day of life, for opportunities to learn and grow and love, for simply being alive.
So I think I'd like to take control of how I start my day. Rather than grabbing my phone and checking email, or snoozing the alarm clock, or stressing about my first meeting of the morning, I'd like to take a few deep breaths and find something to be grateful for. Sometimes that might mean saying the Modeh Ani prayer in Hebrew or English. Other times it might mean saying the Dalai Lama's affirmation. And perhaps sometimes I'll look for something specific – some blessing or person or happy event that has brought some goodness into my life. I'm positing that starting each morning with gratitude will have a positive effect on the rest of my day, and I'm willing to spend 30 seconds a day to find out.
Anybody want to try it with me?
Don't move, lizard. I want to capture you just like that.
I had just finished a run on a hot morning during my recent visit to New Orleans. Standing there, dripping sweat outside my parents' Uptown home, I spotted a lizard on a fence post.
As any New Orleanian knows, a lizard on a fence post is nothing to write home about. In fact, on many summer mornings there seems to be a lizard on every fence post. But this one caught my eye because it was sitting so still, as if surveying the neighbourhood. And the scene was iconic New Orleans: the iron fence post, the broken sidewalks, the lush greenery. I had to have a picture. The world needed to see this.
I pulled my phone out of my pocket and switched on the camera. Then I silently snuck up on the lizard and started snapping from all angles, in all directions. From above, with the sidewalks behind. From below, looking up at a partly-cloudy sky. From straight on, his little reptile eyes staring into my soul. What a shot! Maybe this will go viral. Please stay still, lizard – I don't want to miss this opportunity.
And that was when it hit me: I wasn't really focused on the lizard at all.
I'm relatively new to mindfulness, the ethic that encourages us to stop and live in the moment. In many ways, I'm a great candidate for it: my mind races a mile a minute, I have a pretty high-stress career, and I'm a lot of people's spiritual leader. As a rabbi, I'm interested in mindfulness from a spiritual perspective: the ways that it is known to slow us down, to increase gratefulness, to encourage generosity. As a stressed out person, I'm interested in its ability to reduce stress and help us lead happier lives.
One of the most powerful teachings of the mindfulness ethic is that we have the ability to focus on minds on the present – on living in the moment – and that we often go through life doing just the opposite. Dr. Jon Kabat-Zinn, creator of Mindfulness-Based Stress Reduction writes:
If you start paying attention to where your mind is from moment to moment throughout the day…chances are you will find that considerable amounts of your time and energy are expended on clinging to memories, being absorbed in reverie, and regretting things that have already happened and are over. And you will probably find that as much or more energy is expended in anticipating, planning, worrying, and fantasizing about the future and what you want to happen or don't want to happen. (Full Catastrophe Living p. 10)
There is something to be said for planning and analyzing. We grow as human beings when we learn from our past mistakes; and we accomplish our best when we make plans and implement them. But when we spend all our lives in the past and the future, we fail to live in the present, and we lose out on the opportunity to notice, appreciate, and enjoy what is going on in any given moment.
When I was playing lizard photographer, my mind was focused on anything but the moment – on finding the perfect angle, on the response I might get on Facebook, on the fabulously successful photography career that would be launched with this single photo. And my eyes weren't focused on the lizard either, but rather on a screen in front of it. I was experiencing the world through a pixelated filter.
When I realized this, I did something that was at once challenging and liberating. I turned off my phone, put it in my pocket, and looked at the lizard. Just looked. I watched the way it moved; how its tiny stomach moved in and out as it breathed; the different colours of green that intermingled on its back.
I suppose my reptile photography career will just have to be shelved for later. (Well…there was one decent picture.) In the meantime, I came away feeling better, knowing that for just a few minutes, I had lived in the real world. I had focused on, and appreciated, what was in front of me.