Posts Tagged 'mental health'
This morning, when I first opened my eyes, I looked at the time and said "Aw, sh*t…."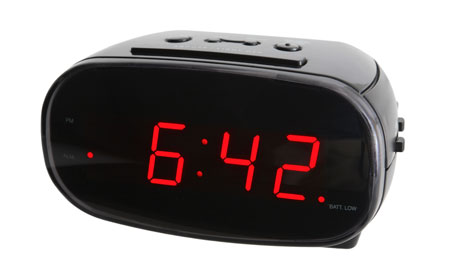 Those were the actual first words I uttered today.
Granted, it had been a particularly rough night. I had gone to bed late, and had been up once with the dog, once with a kid, and once with a disturbing dream. So I was tired, and I really didn't want to be awake. Hence, "Aw, sh*t…."
And yet, that's not necessarily so different from the way that many of my mornings start: with anxiety, or unease or worry about something I'm not looking forward to. I'm sure I'm not the only one: How many of us start almost every day feeling stressed and tired? We can't possibly be setting ourselves up for success by starting the day with negative emotions. The first event of the day sets the tone for the rest of the day. And when the first event of the day is "Aw, sh*t," we're already starting from a deficit.
That's why, starting tomorrow, I'm going to choose a different way to start my days.
When the Dalai Lama was asked how a person can cultivate happiness, he answered that it's about how you start your day:
Every day, think as you wake up, "Today I am fortunate to be alive. I have a precious human life, I am not going to waste it."
When I first read this, I found it really moving, both because it's so simple yet profound, and also because Judaism teaches something very similar. It is traditional to start your day with the following prayer:
I am grateful to You, Eternal Sovereign, for returning my soul to me. Great is your faithfulness.
Modeh ani l'fanecha, melech chai v'kayam,  shehechezarta bi nishmati b'chemla. Rabbah emunatecha.
There is a Jewish tradition that says that every night while you're sleeping, God takes your soul for safekeeping. Then, when you wake up in the morning, God returns it to your body. Hence you wake up uttering these words of thanks for the return of your soul. I don't literally believe in that story (God knows I needed my soul to deal with the dog, the kid, and the dream last night), but I love the idea of starting each day feeling grateful – for another day of life, for opportunities to learn and grow and love, for simply being alive.
So I think I'd like to take control of how I start my day. Rather than grabbing my phone and checking email, or snoozing the alarm clock, or stressing about my first meeting of the morning, I'd like to take a few deep breaths and find something to be grateful for. Sometimes that might mean saying the Modeh Ani prayer in Hebrew or English. Other times it might mean saying the Dalai Lama's affirmation. And perhaps sometimes I'll look for something specific – some blessing or person or happy event that has brought some goodness into my life. I'm positing that starting each morning with gratitude will have a positive effect on the rest of my day, and I'm willing to spend 30 seconds a day to find out.
Anybody want to try it with me?
I'd like to introduce you to the philosophical treatise that has most influenced my life: Calvin & Hobbes. You may laugh, but anyone who's ever read Calvin & Hobbes knows that it addresses serious questions about existence and values and meaning…all through the eyes of the world's most precocious 6-year-old and his imaginary tiger friend.
In one of my very favourite strips, the two of them are sitting under a tree and Calvin asks out of the blue, "Why do you suppose we're here?"
Hobbes answers, "Because we walked here."
"No, no…" Calvin insists, "I mean here on earth."
The tiger responds, a little nonplussed, "Because earth can support life."
"No," Calvin is frustrated now, "I mean why are we anywhere? Why do we exist?"
Hobbes, looking perplexed at the question, replies, "Because we were born."
To which Calvin sulks, "Forget it." And Hobbes snipes back, "I will, thank you."
Yom Kippur is kind of like the Jewish version of sitting under a tree and asking, "Why are we here?" It's a time when we are supposed to do Cheshbon HaNefesh – to take an accounting of our soul. Dr. Richard Sarason writes that "We are challenged to reevaluate our lives in the light of what really matters: our ultimate values, our relationships, and our limitations."[1]
It is a peculiar choice to start each year this way. In our secular lives, New Year's Eve is a time for parties, New Years Day is a time of hangovers, and January 2 we are back to work. But on the Jewish calendar, the year begins with a 10-day period of contemplation and preparation. With asking ourselves hard questions and making plans for what we want to be in the coming year. It you think about it, that's pretty smart. Before you start anything new, it's worthwhile to take time out and prepare for it. Alexander Graham Bell once said, "Before anything else, preparation is the key to success."
Yom Kippur is our day to do the work of preparing for the coming year. But it's not easy work at all. In fact, it goes against some of our most basic habits. Again, Dr. Sarason writes, "The pace of our lives today is very fast and only getting faster. We are often so preoccupied with the business of daily living that we don't pause to consider the bigger picture."
In another Calvin and Hobbes strip, the two of them are sledding downhill at breakneck pace, dodging obstacles and holding on for dear life. Calvin is once again asking philosophical questions: "Do you think people are basically good with a few bad tendencies or basically bad with a few good tendencies?" But Hobbes keeps interrupting him:
"Watch out for those trees."
"There's a rock up ahead! Look out!"
"Not so close to the ledge!"
"Aughhhh. I can't look."
Finally they crash into a tree and go flying. And then Calvin, buried in snow up to his eyeballs, grumbles, "It's very rude of you to keep changing the subject after every sentence."
That's what life does to us – it keeps changing the subject after every sentence. We spend our lives busy, running around from one obligation to the next, from one achievement to the next. So much so that we begin to define ourselves by our obligations and our achievements.
The old joke goes that on Kol Nidrei night, the rabbi walked onto the bima, prostrated himself, and cried out, "Oh, God. Before You, I am nothing!" Then the Cantor was so moved by this demonstration of piety that he threw himself to the floor beside the rabbi and cried, "Oh, God!  Before you, I am nothing!" Then Chaim Pitkin, a tailor in the 17th row, prostrated himself in the aisle and cried, "Oh God! Before You, I am nothing!" At which point the cantor nudged the rabbi and whispered, "Hey, look who thinks he's nothing."
We're always trying to prove ourselves. And unlike the people in the joke, who are trying to prove that they are "nothing," most of us are busy trying to prove that we are something – that our lives are worthwhile, that we have something to contribute to the world around us.
Dr. Lissa Rankin writes that we "wear busyness as a badge of honor. I'm busy, therefore I'm important and valuable."[2]
I don't know about you, but I have not one, not two, but six to-do lists! Aided by my iPhone's handy-dandy list app, I keep lists for work, for home, for the grocery store, for personal things, clothes I need to buy, and house repairs. And while that may be my own special brand of neurosis, I don't think most of us are so different. We evaluate ourselves based on how much we have to do and how much we have done.
But it's not making us happier.
Dr. Brene Brown, the bestselling author and public speaker, says that busyness is a numbing technique that we use to ignore our own unhappiness, that maybe "if we stay busy enough, the truth of our lives won't catch up with us." All I know is that all of those lists and tasks don't bring meaning to our lives. We may be busier, but we are also emptier. We may get more done more, but we feel less accomplished.
Rabbi Joseph Soloveitchik, who is considered the giant of Orthodox Jewish thought, sees this conundrum between seeking achievement and seeking meaning as being built into the human condition. In his classic essay, "The Lonely Man of Faith," he points out that the Torah has two Creation stories, and thus two different descriptions of the Creation of human beings. In the first account, the story of the 7 days, Adam is created as a striver and a doer, the pinnacle of all Creation. This is the version of the story that says we were created in God's image – we are also creators and achievers, like God.
But the Adam of the second Creation account, the story of Garden of Eden, is very different. He is a gardener and a caretaker. The focus of this "Adam the Second," as Soloveitchik calls him, is on "understand[ing] the living world into which he has been cast…. encounter[ing] the universe in all its colorfulness, splendor, and grandeur."[3]
These are the two sides of our nature, the two pieces to what it is to be human: the achiever and the contemplator; the master of the world and the appreciator of the world; the human doing and the human being.
We need both of these sides of us. Without Adam the First, we wouldn't build society or create technology. We wouldn't have the drive to envision a better future and work toward it. But Adam the Second is the one who puts it into perspective, who searches for meaning, who strives just to "be" – and to appreciate the here and now. We are not always very good at cultivating that piece of ourselves. And the result is the busy, stressed-out lives that we are living.
Jon Kabat-Zinn, the renowned creator of Mindfulness Based Stress Reduction, writes that we spend much of our lives only "partially conscious."
He writes: Because of [our] inner busyness, we are liable either to miss a lot of the texture of our life experience or to discount its value and meaning.[4]
Not long ago, I had a personal experience that taught me this lesson. On a visit to my parents' house in New Orleans, I encountered a lizard sitting on a fence post. It was such an iconic scene that I wanted to take the perfect picture of it, so I took out my phone and started snapping pictures, looking for the right angle and trying to frame the shot perfectly. And then I was dreaming about all the comments I might get when I posted the picture on social media. And that was when it hit me, I wasn't looking at or thinking about the lizard at all. I was looking at a screen while thinking about my Facebook account.
How much of the time are we really present? Try this experiment for one day: try to notice how you often your mind is focused on what is right in front of you, and how often it's planning something, or worrying about something, or stressing about something that has already happened. We spend more of lives in the past and future than we do in the here and now.
Maimonides, the great medieval Jewish philosopher and physician, agrees that we spend much of our lives not fully conscious. And he believes that the High Holy Days are the antidote. In the Mishneh Torah, he writes sound of the shofar is intended to call to us "Uru yesheinim misheinatchem – Awaken from your sleep, you slumberers! Awaken and ponder your deeds!"
Have you ever done this? One day about a year ago, after having recently moved into a new house, I was driving home after Friday night services. I must have been lost in thought about something, because when I looked up I had driven – completely unconsciously – to my old house, almost 15 minutes away from where I was now living. I was so disoriented and confused that it actually took me a few seconds to figure out where I was. It was as if I had woken up from being asleep.
One of the tasks of Yom Kippur is to help us wake up, to help us cultivate mindful awareness and be present in the here and now. The idea is that for one day, the world stops – there are no obligations to attend to; the are no achievements to be made. There are only ourselves and the work we have to do.
Those of us who have spent Yom Kippur in Israel have witnessed the national manifestation of this. Almost the entire country shuts down – no one drives; no one goes to work; things are quiet. There simply is nowhere to be except here and now. Living in the diaspora we have to work a little harder to make this happen, by spending the day in thoughtful prayer and study. But the idea is the same.
And beyond this one day, this can be a larger model for our lives – a practice of taking time out to be in the here and now. Practitioners of mindfulness are familiar with what's called the body scan – the practice where you lie still for a period of time (often 20 to 30 minutes), and attentively shift your focus from one part of your body to another. How do my toes feel today? What are my shins experiencing right now? When you do this, what's amazing is that you often become aware of sensations or feelings that you hadn't noticed before – things that you were actually experiencing, but that you were just too busy to take note of.
When we cultivate that kind of mindful awareness – on Yom Kippur or any day of the year – we become more attuned to our own experiences. And we become more grateful for them as well.
The Dalai Lama was once asked what a person should do in order to develop their own happiness. He answered, "Every day, think as you wake up, today I am fortunate to be alive. I have a precious human life and I am not going to waste it."
In fact, this is not so far from Jewish practice. Traditionally, we are supposed to start each day by saying "Modeh ani l'fanecha" – God, I am grateful that you have returned my soul to me this morning." And then we continue with a series of blessings for seemingly mundane acts – opening our eyes, sitting up in bed, putting on clothing, taking steps. When we sanctify those little acts with a blessing, they aren't little acts anymore. They are miracles.
Rabbi Seymour Rossel tells the story of a boy who ate a delicious sandwich and thanked his mother for it. But she replied, "Don't just thank me. I only prepared the food." So the boy went and thanked the baker who had made his bread. But the baker said "I only bake the bread; I don't make the flour." So next the boy when to the miller and thanked him, but the miller sent him to thank the farmer who had grown the wheat. And when arrived to thank the farmer, he was told "I only plant the seed and harvest the grain. It is the sunshine, and rain, and the rich earth from God that make it grow."[5]
The Chassidic masters were particularly adept at cultivating that sense of radical amazement – the sense that everything in the world is a miracle. They believed it brought us closer to God.
I think it might also bring us closer to ourselves. All of the evidence shows that people who cultivate gratitude on a daily basis feel healthier and happier, and better equipped to weather life's difficult moments.
Rabbi Joseph Telushkin explains why:
Consider the mindset of a grateful person: 'Look what [this person] did for me; he really likes me. Look how [such and such] helped me; she really cares about me.' As we cultivate the feeling of gratitude, we also cultivate a feeling of being loved.[6]
When we feel loved, we can love others. When we feel cared for, we are more capable of reaching out to care for others. When we feel secure, we can live by our own values.
Return with me for a moment to Maimonides. In the Mishneh Torah he says that the Shofar calls to us:
עוּרוּ יְשֵנִים מִשְנַתְכֶם – Awaken from your slumber!
וְחַפְשׂוּ בְמַעֲשֵיכֶם וְחִזְרוּ בִתְשׁוּבָ – Examine your deeds and return in repentance.[7]
It is a not only a call to awaken – not only a call to awareness. But also a call to examine our deeds and consider our best selves. The shofar is an invitation to self-awareness.
Ultimately, the goal of this day – and really the goal of every day – is to live a life driven by our own values, a life that we are proud of and that reflects our deepest sense of self. This is something that you can start to plan for on Yom Kippur, but it has to be cultivated on a daily basis.
In mindfulness there is another practice called STOP. It is a short practice – about a minute or less – that involves taking stock at any given moment of the day. The word STOP is an acronym that stands for:
Stop
Take a Breath
Observe
Proceed
The idea behind this practice is to bring mindful awareness to what we're thinking, feeling, and experiencing in a given moment. What is motivating our actions? What is causing us to behave in a certain way? When we are aware of our motivations, we have a greater amount of agency over what we do.
That's exactly the work of Yom Kippur, the work of teshuvah – exploring your own motivations and actions so that you can shift them in ways that are in accordance with your values.
When we are just rushing around getting things done, likely to be reacting to whatever's going on around us. But when we stop and consider, then we control your own destiny. As Stephen Covey writes:
Between stimulus and response there is a space. In that space is our power to choose our response. In our response lies our growth and our freedom.
Yom Kippur is that pause in the rushing river of life. It is the moment in which we stop to consider our actions and our choices, and whether they are in line with our own values. And it can be a model for the way we live our lives each and every day.
By slowing down, by cultivating a sense of gratitude and awareness, we open up that space to live our own lives, to focus on what matters rather than on what presents itself, to shift ourselves from frenzy toward meaning, from busyness toward happiness.
In the final comic strip of the Calvin and Hobbes series, the boy and his tiger step out the door to find a world blanketed in snow.
"Wow," they say, "It really snowed last night! The world looks brand new! A new year… A fresh, clean start!" Then they sit down on their sled and prepare to shove off, and just before they do, Calvin looks at his friend and says, "It's a magical world, ol' buddy. Let's go exploring."
May we, too, spend the New Year exploring – exploring this extraordinary gift of a life we've been given; exploring our true selves and the selves we would like to become. And may this Day of Atonement – this day of awe and dread and aching and opportunity – be the catalyst that spurs us toward greater awareness, toward greater thankfulness, toward a greater commitment to serve others. Toward the happiness that we are capable of achieving.
---
NOTES:
[1] Sarason, Richard. "Why Do We Need This Day of Atonement?" Mishkan HaNefesh, p. xx.
[2] https://www.psychologytoday.com/blog/owning-pink/201404/are-you-addicted-being-busy
[3] Ibid 17.
[4] Kabat-Zinn, Jon. Full Catastrophe Living. Page 10.
[5] Rossel, Seymour. When a Jew Prays. Page 48.
[6] Telushkin, Joseph. A Code of Jewish Ethics. Page 96.
[7] Mishneh Torah, Laws of Repentance 3:4.