Posts Tagged 'philosophy'
This morning, when I first opened my eyes, I looked at the time and said "Aw, sh*t…."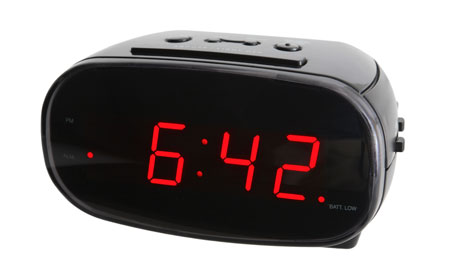 Those were the actual first words I uttered today.
Granted, it had been a particularly rough night. I had gone to bed late, and had been up once with the dog, once with a kid, and once with a disturbing dream. So I was tired, and I really didn't want to be awake. Hence, "Aw, sh*t…."
And yet, that's not necessarily so different from the way that many of my mornings start: with anxiety, or unease or worry about something I'm not looking forward to. I'm sure I'm not the only one: How many of us start almost every day feeling stressed and tired? We can't possibly be setting ourselves up for success by starting the day with negative emotions. The first event of the day sets the tone for the rest of the day. And when the first event of the day is "Aw, sh*t," we're already starting from a deficit.
That's why, starting tomorrow, I'm going to choose a different way to start my days.
When the Dalai Lama was asked how a person can cultivate happiness, he answered that it's about how you start your day:
Every day, think as you wake up, "Today I am fortunate to be alive. I have a precious human life, I am not going to waste it."
When I first read this, I found it really moving, both because it's so simple yet profound, and also because Judaism teaches something very similar. It is traditional to start your day with the following prayer:
I am grateful to You, Eternal Sovereign, for returning my soul to me. Great is your faithfulness.
Modeh ani l'fanecha, melech chai v'kayam,  shehechezarta bi nishmati b'chemla. Rabbah emunatecha.
There is a Jewish tradition that says that every night while you're sleeping, God takes your soul for safekeeping. Then, when you wake up in the morning, God returns it to your body. Hence you wake up uttering these words of thanks for the return of your soul. I don't literally believe in that story (God knows I needed my soul to deal with the dog, the kid, and the dream last night), but I love the idea of starting each day feeling grateful – for another day of life, for opportunities to learn and grow and love, for simply being alive.
So I think I'd like to take control of how I start my day. Rather than grabbing my phone and checking email, or snoozing the alarm clock, or stressing about my first meeting of the morning, I'd like to take a few deep breaths and find something to be grateful for. Sometimes that might mean saying the Modeh Ani prayer in Hebrew or English. Other times it might mean saying the Dalai Lama's affirmation. And perhaps sometimes I'll look for something specific – some blessing or person or happy event that has brought some goodness into my life. I'm positing that starting each morning with gratitude will have a positive effect on the rest of my day, and I'm willing to spend 30 seconds a day to find out.
Anybody want to try it with me?
Don't move, lizard. I want to capture you just like that.
I had just finished a run on a hot morning during my recent visit to New Orleans. Standing there, dripping sweat outside my parents' Uptown home, I spotted a lizard on a fence post.
As any New Orleanian knows, a lizard on a fence post is nothing to write home about. In fact, on many summer mornings there seems to be a lizard on every fence post. But this one caught my eye because it was sitting so still, as if surveying the neighbourhood. And the scene was iconic New Orleans: the iron fence post, the broken sidewalks, the lush greenery. I had to have a picture. The world needed to see this.
I pulled my phone out of my pocket and switched on the camera. Then I silently snuck up on the lizard and started snapping from all angles, in all directions. From above, with the sidewalks behind. From below, looking up at a partly-cloudy sky. From straight on, his little reptile eyes staring into my soul. What a shot! Maybe this will go viral. Please stay still, lizard – I don't want to miss this opportunity.
And that was when it hit me: I wasn't really focused on the lizard at all.
I'm relatively new to mindfulness, the ethic that encourages us to stop and live in the moment. In many ways, I'm a great candidate for it: my mind races a mile a minute, I have a pretty high-stress career, and I'm a lot of people's spiritual leader. As a rabbi, I'm interested in mindfulness from a spiritual perspective: the ways that it is known to slow us down, to increase gratefulness, to encourage generosity. As a stressed out person, I'm interested in its ability to reduce stress and help us lead happier lives.
One of the most powerful teachings of the mindfulness ethic is that we have the ability to focus on minds on the present – on living in the moment – and that we often go through life doing just the opposite. Dr. Jon Kabat-Zinn, creator of Mindfulness-Based Stress Reduction writes:
If you start paying attention to where your mind is from moment to moment throughout the day…chances are you will find that considerable amounts of your time and energy are expended on clinging to memories, being absorbed in reverie, and regretting things that have already happened and are over. And you will probably find that as much or more energy is expended in anticipating, planning, worrying, and fantasizing about the future and what you want to happen or don't want to happen. (Full Catastrophe Living p. 10)
There is something to be said for planning and analyzing. We grow as human beings when we learn from our past mistakes; and we accomplish our best when we make plans and implement them. But when we spend all our lives in the past and the future, we fail to live in the present, and we lose out on the opportunity to notice, appreciate, and enjoy what is going on in any given moment.
When I was playing lizard photographer, my mind was focused on anything but the moment – on finding the perfect angle, on the response I might get on Facebook, on the fabulously successful photography career that would be launched with this single photo. And my eyes weren't focused on the lizard either, but rather on a screen in front of it. I was experiencing the world through a pixelated filter.
When I realized this, I did something that was at once challenging and liberating. I turned off my phone, put it in my pocket, and looked at the lizard. Just looked. I watched the way it moved; how its tiny stomach moved in and out as it breathed; the different colours of green that intermingled on its back.
I suppose my reptile photography career will just have to be shelved for later. (Well…there was one decent picture.) In the meantime, I came away feeling better, knowing that for just a few minutes, I had lived in the real world. I had focused on, and appreciated, what was in front of me.
In Douglas Adams's cult novel, The Hitchhiker's Guide to the Galaxy, several characters build a giant computer to tell them the meaning of life. After millions of years of experimentation, the computer (with much fanfare) finally spits out an answer: the number 42.  But that makes no sense! How can "42" be the answer to life, the universe, and everything? The computer has some insight into this: "I think the problem is that you've never actually known what the question is."
Judaism, perhaps like Sci-Fi, is also an attempt to find meaning in life. But the Jewish way isn't to do it through complex computer equations, but rather through the way we live. When the Rabbis of the Talmud asked this question, they didn't come up with a number, but a set of instructions:
The world stands on three things: on Torah, on worship, and on acts of kindness. (Pirke Avot 1:2)
This is the Rabbis' threefold "recipe" for a meaningful life:
Torah – Study is absolutely central to Jewish life. It is the route by which we learn about ourselves and about the world around us. Through study, we reach for meaning intellectually, by trying to understand it.
Worship – We might expand this to "spirituality." It is the act of building a relationship with what is larger than us (however we conceive it – as a supernatural God or as the natural processes that make for meaning). This might look like prayer, mindfulness, meditation, or reciting blessings. Through worship, we reach for meaning by trying to touch it.
Acts of Kindness – As Jews we are called upon not only to think, not only to strive for meaning, but to do things that actively make our world better. Through Tikkun Olam, we reach for meaning by trying to actualize it.
I think Adams got it right: the meaning of life isn't an answer – it's a question. As Jews, it's not that we're "looking for" the meaning of life – we get to create meaning in life through the way we live our lives.